Designer Shingles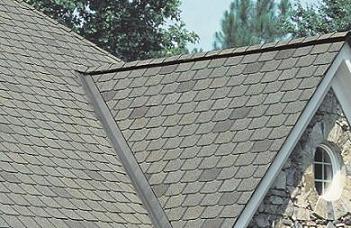 For most people, re-roofing is a daunting task. It is one of the more costly and important home improvements projects you will undertake. It can also be one of the more rewarding. Installing a new roof is one of the few ways of dramatically altering the look of your home. This is because of the availability today of architectural or "designer" shingles. Homeowners are increasingly opting for designer shingles.
Manufacturers like Building Products of Canada (BP) are very much aware of this trend and, in recent years, have introduced new designs and more sophisticated colours. Currently the most fashionable designer shingle is the laminated shingle. One popular example is the Harmony 35 from BP. It uses the same material as fiberglass asphalt shingles but offers a thicker, more substantial look more closely resembling slate or wood shakes. Designer shingles are backed by warranties of 30, 35, 40 and even up to 50 years.
For more than a generation, the classic 3-tab shingle dominated the roofing scene. Slowly but surely the benefits of designer shingles have become apparent to homeowners: the upscale look their shake-like design imparts to a home's exterior; the added protection, backed by additional warranty coverage; and value, in terms of both performance and additional return on investment if and when the house is put up for sale. At ACCL Roofer we specialize in the installation of designer shingles. Ask one of our roofing specialists about them today.
If you're looking for a professional designer shingle roofer, then please give us a call today (416) 759-8567 or complete our online request form.