Professional Roof Replacement Services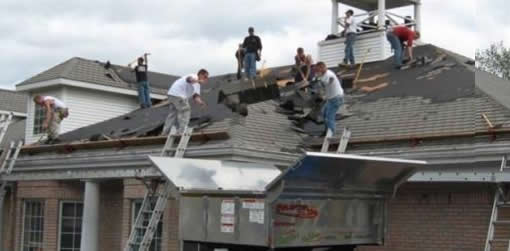 Does your asphalt shingle roof need to be replaced? Are you unsure whether or not it needs to be replaced? Some of the following are signs that you may need to consider roof replacement:
BARE SPOTS – The protective granular surface of shingles wears off as the asphalt, into which the granules are embedded, begins to harden over time. Bare spots are often accompanied by fine fissures on the shingles' surface and by the accumulation of granules in the gutters.
CURLING – The upward curling of shingle tabs makes them highly susceptible to wind and ice damage.
BROKEN SHINGLES – Damage can be caused by extreme wind conditions. Since shingles are supposed to shed water, broken, torn or missing tabs become entry points for water, especially on low slope roofs where run-off is slower and at the peaks of the roof where shingles are the most vulnerable to high winds.
CLAWING – This is the curling under of the shingle tab's bottom edge and is part of the normal aging process of shingles. The bulge created is susceptible to substantial damage by wind, hail and ice.
FLASHING – Many problems occur at the flashings around vents and chimneys, and along walls and valleys. Problems in these areas are normally not visible to the untrained eye, but they are always likely candidates if you have a leak.
If you need a roof replacement or you just want to find out what condition your roof is in, give us a call. Our roofing specialists will be glad to help you.
If you're looking for a professional roof replacement contractor, then please give us a call today (416) 759- 8567 or complete our online request form.